Cone Denim x AMK Atelier x Tonello Launch Collaborative Collection at Kingpins Amsterdam
Special collection features Cone® Community Mental Health Awareness Selvage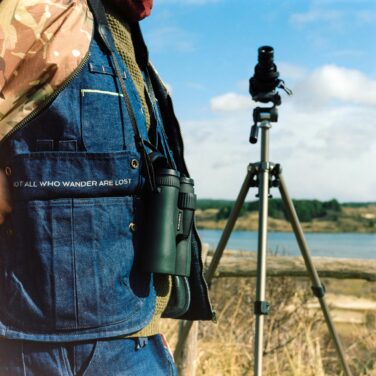 Greensboro, N.C. – Cone Denim® will debut Wander, a denim collaboration with AMK Atelier, leading garment finisher Tonello and videographer Eduard Nijgh at Kingpins Amsterdam April 12-13. The collaborative collection was inspired by the outdoors and the mental health benefits of being immersed in nature. Wander, designed by AMK Atelier Founder Maria Gunnarsson, includes garments in a range of Cone Denim fabrics with the Cone® Community Mental Health Awareness selvage as its hero.
"Project Wander grew organically after a conversation with Maria last year at Kingpins Amsterdam. We worked together on a prior Cone Denim collaboration, The Very Best of Times, and our shared passion for how being outdoors can benefit an individual's mental health inspired this collection," said Cone Denim Design Director Pierette Scavuzzo. "The opportunity to work with AMK Atelier, Tonello and Eduard Nijgh on a cause-oriented collaboration and raise awareness through our reach in the industry has been a profound experience."
Wander carries a dual meaning. On one hand, our minds can wander and cause our mental health to be challenged. On the other hand, wandering in nature positively affects our mental health. Being nurtured by nature benefits both our physical and mental well-being, as reported by the International Journal of Mental Health and Addiction. Their research cites the benefits of nature therapy on mental health and wellness. Studies have shown that spending time in nature is therapeutic. The simple act of spending time outdoors has been associated with lower rates of depression and reduced stress.
"I was born on a farm in the Swedish countryside, and spending time in nature has been a big part of my upbringing. Now that I live in Amsterdam, I value nature even more. My partner Arne and I try to get out as often as we can in our camper car to change the scenery from the city life," said AMK Atelier Founder and Designer Maria Gunnarsson. "With this background, it was natural to design an outdoor collection based on our lifestyle in the mental health fabric from Cone Denim. I would be honored if this collection could inspire anyone to take a breath, go for a walk and look outside for what nature has to offer."
The Wander capsule collection on display at Kingpins will showcase 13 garments inspired by nature and the outdoors. Gunnarsson's concept for the collection focused on nature, recovery and function. Maria featured the Cone Community Mental Health Awareness fabric with its neon green ID, symbolizing the importance of mental well-being as a central element in her designs. Each garment has the well-known J.R.R. Tolkien's quote, 'all who wander are not lost,' lasered into the fabric.
"The Wander collaboration with Cone Denim and AMK Atelier was a bit like getting lost, only to find yourself again. A finding oneself understood as being in greater contact with nature, as well as in finding a balance with it," said Alice Tonello, Marketing and R&D Director for Tonello. "All of this inspired us in making the washes and dyes, which were very responsible and gentle."
Created in 2019, The Cone Community Collection of fabrics supports and raises awareness for worthy causes that align with the values of Cone Denim. Mental Health was the fourth to launch in the collection and has a neon green ID symbolic for mental health awareness. Made from Cone Denim selvage, this collection has an authentic, 80s-inspired construction in 100% cotton. Cone Denim donates a portion of sales from this collection to The Child Mind Institute.
According to The Child Mind Institute, as many as 1 in 5 children struggle with mental health and learning challenges. Due to stigma, misinformation, and a lack of access to care, the average time between the onset of symptoms and any treatment is over 8 years. This is the reason the Child Mind Institute was created.
The Child Mind Institute is an independent, national nonprofit dedicated to transforming the lives of children and families struggling with mental health and learning disorders by giving them the help they need. They have become the leading independent nonprofit in children's mental health by providing gold-standard evidence-based care, delivering educational resources to millions of families each year, training educators in underserved communities, and developing tomorrow's breakthrough treatments.
Scavuzzo continued, "We are excited to, once again, bring some of the greats in the industry together to support such an important cause. Tonello is one of the global leaders in garment finishing technologies and was able to bring beautiful, authentic washes to life. With Maria's impeccable craft and design details and Eduard Nijgh contributing with his storytelling, we are happy to bring a collection that inspires and supports those facing mental health struggles."
Project Wander grew organically after a conversation with Maria last year at Kingpins Amsterdam. Our shared passion for how being outdoors can benefit an individual's mental health inspired this collection
- Cone Denim Design Director Pierette Scavuzzo
About Cone Denim
A leading denim innovator for more than 130 years, Cone Denim® delivers unparalleled expertise and advanced denim capabilities that service and inspire the global market. Cone promotes sustainable practices through its Sustainblue™ denim fabrics representing the highest standards in responsible manufacturing and Cone's commitment to making a positive impact in its communities. From performance denims and superior S GENE® technology to vintage re-creations of Cone Deeptone Denim™ reaching back to the early 1900s, Cone offers unique collections of Performance, Stretch, Selvage, and Distilled Indigo™ denims crafted out of the Cone®3D R&D incubator. Cone Denim operates as part of Elevate Textiles, Inc., with manufacturing capabilities in Mexico and China and a global network of sales, product, and merchandising professionals based out of Greensboro, N.C., New York, Los Angeles, and Hong Kong. To learn more, visit us at conedenim.com, LinkedIn, Instagram, and Facebook or elevatetextiles.com.
About AMK Atelier and Maria Gunnarsson
Maria Gunnarsson is a Swedish designer and operates AMK Atelier from her creative studio in Amsterdam. She specializes in Technical Design, Visual Merchandising and Sustainable Solutions. For more information, visit AMK Atelier.