Cone Denim x Miles Johnson x Tonello Denim Collaboration
A sustainable collection from Cone Denim X Miles Johnson X Tonello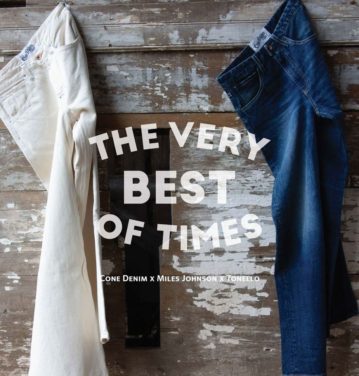 Greensboro, NC – Cone Denim®, a global leader in denim authenticity and sustainable innovation, is excited to debut the Cone Denim x Miles Johnson x Tonello denim collaboration,  The Very Best of Times denim collection, a timeless collaboration between denim greats Cone Denim, Miles Johnson and Tonello. From fiber to finish, this heritage-inspired, sustainable collection features natural indigo, organic cotton, recycled cotton, hemp, naturally soft techniques and sustainable natural dyes, all designed with a modern lens.
"The Very Best of Times brought together a group of longtime friends with a shared love and passion for denim authenticity and sustainability," said Pierette Scavuzzo, Cone Denim's Director of Product Design. "It was a project from the heart, intended to lift up and inspire, based on the collaborative experience and trust within the team. From this foundation, the team was able to come together 'virtually' from all different locations, creating a long distance collection of many perspectives from the UK, Amsterdam, US + Italy."
The Very Best of Times capsule collection and video debut at the Kingpins24 Digital Show on February 23rd. The sustainable collection features 12 timeless garments and totes inspired by denim authenticity and workwear resurgence. Vintage and retro garments include historical and modern examples of work pants and classic jackets with unstructured boxy designs, functional pockets and unisex silhouettes. Cone Denim fabrics featured include Cottonwood, Montauk, Hayes, and Indigo selvage styles.
Co-collaborator Miles Johnson has been inspiring denim innovation and design for more than 20 years working with mills, laundries, manufacturers and clothing brands of different scales, and focused on sustainability and responsible innovation from fiber to garments. "Since the start of my career I've had the good fortune of working with Cone Denim and there I got to develop some of my favorite denims of all times," he said. "We have always talked passionately from the heart about what makes denim so special. It is always such a pleasure to get to work with likeminded old friends that you've really enjoyed working with over the years. There is a natural and authentic way of working where, because of the trust, we were able to get on with the task easily and all do our own thing to contribute."
This special capsule collection uses sustainable components and processes in creating each garment, featuring Tonello finishing technologies. Tonello was able to recreate heritage-inspired washes using no harmful chemicals, a minimum amount of water, no stones, and featuring their OBleach technique where you can create the most authentic light wash-downs without the use of bleach. Another highlight from this capsule is Tonello's Wake Dye technique, a natural dye system using only vegetable waste and organic raw materials to create a beautiful palette of colors. It is truly remarkable what Tonello was able to create using the most mindful of materials and processes for the environment.
Scavuzzo continued, "We pulled inspiration from some of the greats in the industry, who are our longtime friends. We have had great opportunities to work with Miles throughout his denim career, and he has always inspired us and the industry in his work, especially in sustainable design and unique craftsmanship. Alice Tonello and Massimo Falaguasta of Tonello are global leaders in garment finishing technologies and were able to bring beautiful, authentic all-sustainable washes to life. Maria Gunnarsson operates AMK Atelier and has her creative studio in Amsterdam. Maria has a very special passion and talent and worked meticulously on all of the pattern work and details for the collection. With this dream team, we are happy to bring to the industry a collection that uplifts and inspires during a very unusual time."
We are shifting the narrative to carve out a space to explore, have fun, and create a positive space.
About Cone Denim
A leading denim innovator for more than 128 years, Cone Denim delivers unparalleled expertise and advanced denim capabilities that service and inspire the global market. Cone promotes sustainable practices through its SustainblueTM denim fabrics representing the highest standards in responsible manufacturing and Cone's commitment to making a positive impact in its communities. From performance denims and superior S GENE® technology to vintage re-creations of Cone Deeptone DenimTM reaching back to the early 1900s, Cone offers unique collections of Performance, Stretch, Selvage, and Distilled IndigoTM denims crafted out of the Cone®3D R&D incubator. Cone Denim operates as part of Elevate Textiles, Inc. with manufacturing capabilities in Mexico and China and a global network of sales, product and merchandising professionals based out of Greensboro, NC, New York, San Francisco and Hong Kong. To learn more, visit us at conedenim.com, LinkedIn, Instagram, and Facebook or elevatetextiles.com.
About Miles Johnson
Miles is a responsible and environmental design consultant with specialist focus on how to action systems, design and sourcing level change in the fashion industry. Miles' work is geared towards uniting the worlds of design and sustainability in order to create an industry model that focuses on less harmful processes for people and planet. Miles has worked for more than 20 years with both mills and laundries, manufacturers and clothing brands of different scales, building sustainable collections, rebuilding responsible and innovative products from fibre to fully finished garments. Miles was Creative Director of Design and Product Development at the outdoor clothing specialist Patagonia Inc., based in California, USA, and previously Creative Director of Levi's XX in Amsterdam, directing LVC, RED and Made&Crafted. It has been a journey from an Art School education, through the film and television industry to full immersion in the denim world, taking in educational roles along the way, to fulfilling a role at the cutting edge of sustainable technology.