Cone Denim is the first denim mill in North America to join CIRCULOSE® Supplier Network
The partnership advances Cone Denim's commitment to driving circular solutions forward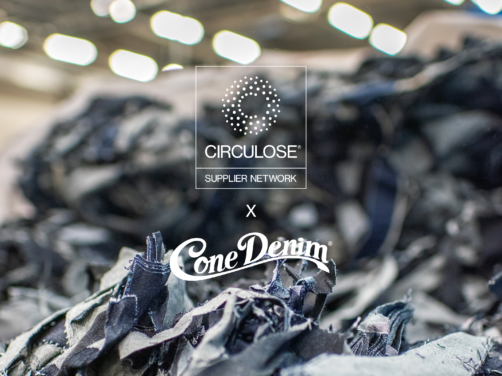 Greensboro, N.C. – Cone Denim® has become the first denim mill in North America to join the CIRCULOSE® Supplier Network, a network comprised of yarn and textile producers committed to streamlining and increasing CIRCULOSE® production across the supply chain.
"Our partnership in the CIRCULOSE® Supplier Network underscores Cone Denim's commitment to drive change toward a sustainable fashion future," said Caitlyn Holt, Cone Denim Director of Product and Innovation. "We're committed to making the textile value chain circular by increasing the percentage of recycled content in the denim fabrics we design, develop, and bring to market."
Renewcell, a pioneering leader in textile recycling innovation, announced the launch of the CIRCULOSE® Supplier Network last month. The network is comprised of yarn and textile producers committed to advancing the use of CIRCULOSE® in apparel production.
CIRCULOSE® is a next-generation raw material derived from the recovery of cellulose found in worn-out clothing and transformed into a dissolving pulp made from 100% recycled textiles. The pulp serves as the foundation for various types of regenerated fibers, including viscose, lyocell, modal, acetate, and other man-made cellulosic fibers.
Joining the CIRCULOSE® Supplier Network is among several initiatives Cone Denim is undertaking as part of the leading role the 132-year-old mill is playing toward the adoption of circularity in the industry.
Since 2022, Cone Denim has been actively participating as one of the U.S. trial partners for Accelerating Circularity, a nonprofit that catalyzes new circular supply chains and business models to turn spent textiles into mainstream raw materials. Through this program, Cone Denim has incorporated recycled and circular fibers into products at scale. This includes offering denim brands RCS-certified, post-industrial waste (PIW) recycled cotton from its mills in China and Mexico.
Cone Denim is focused on a sustainable future. Over the past five years, the company has invested more than $13 million in new equipment installation and advanced processes that lessen the environmental impact of its manufacturing operations. Cone Denim has a roadmap with established targets across water conservation, energy and greenhouse gas reduction (including validated Science Based Targets), waste reduction, and sustainable product development to support the UN Sustainable Development Goals.
We are shifting the narrative to carve out a space to explore, have fun, and create a positive space.
About Cone Denim
A leading denim innovator for more than 130 years, Cone Denim® delivers unparalleled expertise and advanced denim capabilities that service and inspire the global market. Cone promotes sustainable practices through its Sustainblue™ denim fabrics representing the highest standards in responsible manufacturing and Cone's commitment to making a positive impact in its communities. From performance denims and superior S GENE® technology to vintage re-creations of Cone Deeptone Denim™ reaching back to the early 1900s, Cone offers unique collections of Performance, Stretch, Selvage, and Distilled Indigo™ denims crafted out of the Cone®3D R&D incubator. Cone Denim operates as part of Elevate Textiles, Inc., with manufacturing capabilities in Mexico and China and a global network of sales, product, and merchandising professionals based out of Greensboro, N.C., New York, Los Angeles, and Hong Kong. To learn more, visit us at conedenim.com, LinkedIn, Instagram, and Facebook or elevatetextiles.com.
About Re:NewCell AB (publ) ("Renewcell"): Renewcell is a Swedish sustain-tech company that developed a patented process that enables the recycling of cellulosic textile waste, such as worn-out cotton clothes and production scraps, transforming it into a new material called CIRCULOSE®. Fast Company named Renewcell one of the World's Most Innovative Companies in 2021 and was a winner of the 2023 World Changing Ideas Awards. CIRCULOSE® was also included on TIME Magazine's list of the 100 Best Inventions 2020. Founded by innovators from Stockholm's KTH Royal Institute of Technology in 2012, the award-winning company's vision is to make fashion circular.