Cone Denim Introduces Ionic+™ Sustainable Antimicrobial Protection for Denim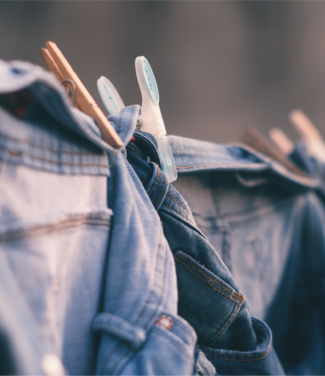 Greensboro, NC – Cone Denim®, a global leader in denim authenticity and sustainable innovation, is excited to launch the newest in denim innovation – the Self-Clean Jean. In partnership with Noble Biomaterials, the global leader in antimicrobial and conductivity solutions for soft-surface applications, Cone Denim has developed its newest denim fabric using Noble's Ionic+™ technology, which harnesses the power of positive ions embedded in yarn fibers to inhibit the growth of bacteria and microbes on the surface of fabric. Through this advanced technology, Cone has created sustainable protection for jeans that remain clean and odor-free, thus reducing the need for frequent washing.
"Cone remains committed to being a leader in the development of sustainable denims and working with likeminded partners to identify and lead initiatives to create more sustainable, responsibly produced denims," said Steve Maggard, President of Cone Denim. "We are very excited to be the first to bring together the advanced science of Ionic+ with Cone's authentic denim, creating another industry first in sustainable denim innovation."
"Consumers today are looking for apparel that provides not only comfort, but also hygiene benefits," said Joel Furey, CCO of Noble Biomaterials. "We're very pleased to be partnering with Cone Denim to incorporate our Ionic+ technology into this innovative, sustainable denim that provides long-lasting antimicrobial protection."
The newest Cone denim with Noble's Ionic+ silver technology was designed with sustainability and protection at its core. Ionic+ uses positively charged ions found in nature to disrupt the growth of microbes on Cone's fabric, promoting self-cleaning to eliminate odors. Silver ions are permanently incorporated within the fibers and the fabric requires no additional chemistry or finishing process that could be washed or worn out. The performance lasts the lifetime of the garment, resulting in fewer needed washings and reduced water consumption and energy use. The denim is also dyed using one of Cone Denim's Distilled Indigo (pre-reduced) shades, which offers additional water, energy and chemical savings.
Noble Biomaterials is a bluesign® System Partner and Ionic+ fibers and filaments have received OEKO-TEX® Standard 100 accreditation, which certifies that they support human ecology through biocompatibility and the absence of harmful substances in the manufacturing process.
Pierette Scavuzzo, Director Product Design for Cone Denim added, "The Self-Cleaning Jean is a game changer. The fabric is versatile in a 10.5 ounce weight with 44 percent stretch, incorporating well-balanced yarn character and a very soft hand. Combine this superior comfort with silver, odor-free technology and its many sustainable benefits that promote resource savings and you have your favorite go-to jean."
Cone Denim is launching the Self Clean Jean in our Spring / Summer '22 collection which debuts next week in conjunction with the Kingpins Amsterdam virtual trade show.
Media Contacts for Noble Biomaterials:
Michael McMullan/Jenna Metcalf
Berns Communications Group
mmcmullan@bcg-pr.com/jmetcalf@bcg-pr.com
We are shifting the narrative to carve out a space to explore, have fun, and create a positive space.
About Cone Denim
A leading denim innovator for more than 128 years, Cone Denim delivers unparalleled expertise and advanced denim capabilities that service and inspire the global market. Cone promotes sustainable practices through its SustainblueTM denim fabrics representing the highest standards in responsible manufacturing and Cone's commitment to making a positive impact in its communities. From performance denims and superior S GENE® technology to vintage re-creations of Cone Deeptone DenimTM reaching back to the early 1900s, Cone offers unique collections of Performance, Stretch, Selvage, and Distilled IndigoTM denims crafted out of the Cone®3D R&D incubator. Cone Denim operates as part of Elevate Textiles, Inc. with manufacturing capabilities in Mexico and China and a global network of sales, product and merchandising professionals based out of Greensboro, NC, New York, San Francisco and Hong Kong. To learn more, visit us at conedenim.com, LinkedIn, Instagram, and Facebook or elevatetextiles.com.
About Elevate Textiles
Elevate Textiles offers distinguished global textile brands including American & Efird, Burlington, Cone Denim, Gütermann and Safety Components. With a global array of premium fabric and thread solutions focused on innovation, sustainability and quality craftsmanship, Elevate and its portfolio brands provide products that surround us every day and in all facets of life. We offer advanced, high quality products and mission critical textile solutions across vast industries including fashion and functional apparel, footwear, military, fire, medical, athletic, automotive, aerospace, outdoor, and other specialty sectors. Elevate is committed to delivering solutions that protect and enhance our lives through its global manufacturing platform. To learn more about Elevate Textiles and our brands, visit elevatetextiles.com and follow us on LinkedIn.
About Noble Biomaterials, Inc.
Noble Biomaterials, Inc. is a global leader in antimicrobial and conductivity solutions for soft-surface applications. The company produces advanced material technologies designed for mission-critical applications in the performance apparel, healthcare, industrial and emerging wearable technology markets. Its flagship brands, X-STATIC®, Ionic+™ and CIRCUITEX®, are used by hundreds of world-class licensees to provide odor elimination, infection prevention/management, biometric monitoring and conductive protection benefits. Its headquarters and manufacturing facilities are located in Scranton, PA, and the company has offices in Europe, Asia and South America. NobleBiomaterials.com