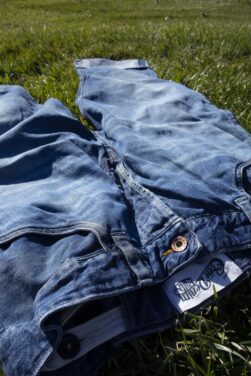 August 03, 2021, Greensboro, NC – Cone Denim®, a global leader in denim authenticity and sustainable innovation, is excited to offer its customers access to Cone Denim styles via the Higg Materials Sustainability Index (MSI), the apparel industry's most trusted tool to measure and score the environmental impacts of materials used in the design and production of garments and footwear.  Through the Higg MSI tool, Cone Denim is able to provide Life Cycle Assessment and comparison data to its customers that provides details of specific materials used in the design of Cone Denim fabrics and the associated environmental impact.
The Higg MSI promotes and supports increased transparency with access to verifiable data that compares the impact of different materials, such as cotton, polyester and leather, allowing designers to make more informed product decisions and minimize the environmental impact of new products.  With this industry-standardized tool, customers can s further their own impact reduction goals through the design of new products.
Cone Denim has developed custom materials in the MSI tool for its full Spring/Summer 2022 fabric collection.
"We are excited to be among the first to offer this type of innovation to support our customers' efforts in designing sustainable products," said Steve Maggard, President Cone Denim.  "Cone is a strong supporter of industry standardization and transparency in the sustainability and compliance areas.  We continue to explore and advance tools and resources that align with our customers' goals to design and produce sustainable apparel.  I am excited by the many opportunities ahead to drive increased sustainability through meaningful collaborations across the textile and apparel industries."
Cone Denim has been using the Higg Environmental Module (FEM) since 2017 and have added additional Higg tools since that time, including the Higg Facility Social & Labor Module (FSLM) and Higg MSI.  The company formally joined the Sustainable Apparel Coalition, which created the Higg Index, earlier this year, expanding its participation with the coalition and further advancing its commitment to drive sustainability as a leader within the textile and apparel industries.
The Higg Index is an indicator-based suite of tools that measures sustainability performance and drives supply chain transparency and decision-making that enables suppliers, manufacturers, brands, and retailers to better evaluate materials, products, facilities, and processes based on environmental performance, social labor practices, and product design choices.
Learn more about Cone Denim and our newest sustainable innovations for denim at www.conedenim.com, or contact your Cone Denim sales representative.
We are shifting the narrative to carve out a space to explore, have fun, and create a positive space.
About Cone Denim
A leading denim innovator for more than 130 years, Cone Denim delivers unparalleled expertise and advanced denim capabilities that service and inspire the global market. Cone promotes sustainable practices through its SustainblueTM denim fabrics representing the highest standards in responsible manufacturing and Cone's commitment to making a positive impact in its communities. From performance denims and superior S GENE® technology to vintage re-creations of Cone Deeptone DenimTM reaching back to the early 1900s, Cone offers unique collections of Performance, Stretch, Selvage, and Distilled IndigoTM  denims crafted out of the Cone®3D R&D incubator. Cone Denim operates as part of Elevate Textiles, Inc. with manufacturing capabilities in Mexico and China and a global network of sales, product and merchandising professionals based out of Greensboro, NC, New York, Los Angeles and Hong Kong. To learn more, visit us at conedenim.com, LinkedIn, Instagram, and Facebook or elevatetextiles.com.