Ten Years of Superior S Gene Performance Stretch
Cone Denim's S GENE® innovation celebrates ten years. S Gene performance stretch fabrics were the first of its kind, originally introduced in 2007.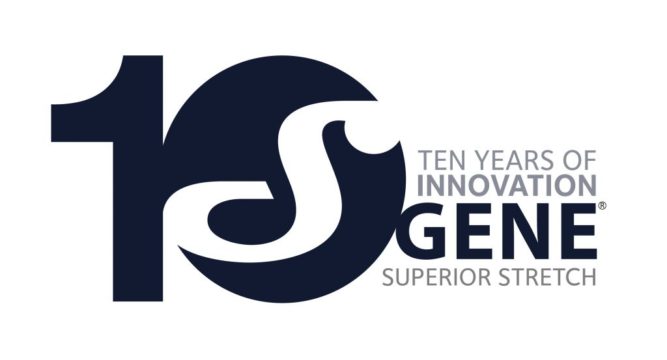 Cone Denim's S GENE® innovation was the first of its kind, originally introducing S GENE denim fabrics in 2007.  S GENE yarns with dual-core technology are designed to provide superior stretch and recovery.  To create these yarns Cone started with two core components – spandex and continuous filament, which optimizes stretch and maximizes recovery.  The dual-core yarns are then wrapped in a spun cotton covering to provide familiar soft hand and natural appearance with added stretch performance.
This year Cone Denim is excited to celebrate the 10-year anniversary of its revolutionary S GENE technology. The advancement of this performance technology has included Level II S GENE® introduced in 2015 and the latest and most advanced power stretch denim incorporating S GENE® + (Plus) yarns introduced this year, representing the latest evolution of the S GENE dual-core stretch yarn technology.
In celebration of this 10 year anniversary Cone Denim has once again added a new breed of denim to our S GENE family- the S GENE+ line of new stretch fabrics, who's polyester shape-holding filament components are not only strong, but also forged from 100% recycled thermoplastic material making for our most eco-conscious performance stretch to date.
Other S GENE innovations include CONEFLEX™ denim utilizing S GENE technology.  These denims feature stretch yarns in the warp and the weft providing 360-degree, four-way advanced stretch.  CONEFLEX fabrics have low shrinkage, excellent recovery and give garments better shape retention across multiple fits, all with the authentic look and feel of traditional 100% cotton denim.
We are shifting the narrative to carve out a space to explore, have fun, and create a positive space.