Cone Denim Establishes a Certified Supply Chain for Recycled Cotton in Mexico
RCS Certification Expanded to Include Third-Party Supplier for Documentation and Verification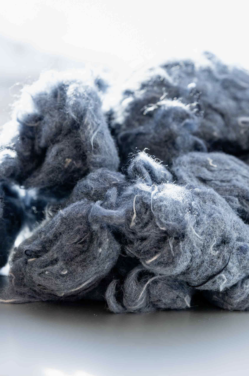 Greensboro, N.C. — Cone Denim® has established a certified supply chain for recycled cotton in Mexico. The company's certification now includes a closed-loop process for recycled cotton, providing customers with verification and documentation of recycled cotton used in the manufacturing of Cone Denim fabrics in the Western Hemisphere.
"While both of our mills in Mexico are already RCS certified for fabrics, we went a step further in having our fiber supplier certified," said Cone Denim President Steve Maggard. "The demand for recycled cotton continues to grow. With this increased demand, we recognize the value for our customers to have third-party verification of the recycled content used in denim made by Cone."
Cone Denim identified and engaged with a third-party supplier in Mexico to certify their process for recycled cotton. The supplier was required to meet the certification standards established by Textile Exchange and certified by Control Union. Cone Denim received RCS certification with this new process in March and will undergo a yearly audit to maintain its standing.
"The Organic Content Standard (OCS) and Recycled Content Standard (RCS) programs demonstrate companies' commitment to sustainability for organic and recycled products. Both Textile Exchange programs have a strong structure and establish trust along the supply chain," said Yemil Zarzar Kourniatis, Certifications Manager for Control Union in Mexico. "Cone Denim has been certified for the last four years, which is a result of not just strong teamwork but a genuine desire to impact our world by creating a sustainable business model."
Procuring certified recycled cotton for denim manufacturing in this hemisphere is more complex since the waste streams are not as established as those in the Eastern Hemisphere. Cone Denim's closed-loop recycling process in Mexico establishes a small footprint for producing recycled yarn.
Cone Denim is committed to sustainable innovation and has used post-industrial waste in its denim for over 25 years. The company's mill in Parras, Mexico has the capability of producing up to 50% post-industrial waste (PIW) cotton in its denim fabric constructions, and Cone's mill in China can offer up to 100% PIW recycled cotton.
The company's ongoing commitment to responsible denim manufacturing aligns with the United Nations Sustainable Development Goals (SDG) to incorporate recycled content into our products and reduce waste at its facilities through increased recycling efforts under SDG 12.
The Recycled Claim Standard (RCS) is used as a chain of custody standard to track raw materials through the supply chain. Products certified to the Recycled Claim Standard contain recycled content that has been independently verified at each stage of the supply chain, from the source to the final product.
The demand for recycled cotton continues to grow. With this increased demand, we recognize the value for our customers to have third-party verification of the recycled content used in denim made by Cone.
- Cone Denim President Steve Maggard
About Cone Denim
A leading denim innovator for more than 130 years, Cone Denim® delivers unparalleled expertise and advanced denim capabilities that service and inspire the global market. Cone promotes sustainable practices through its Sustainblue™ denim fabrics representing the highest standards in responsible manufacturing and Cone's commitment to making a positive impact in its communities. From performance denims and superior S GENE® technology to vintage re-creations of Cone Deeptone Denim™ reaching back to the early 1900s, Cone offers unique collections of Performance, Stretch, Selvage, and Distilled Indigo™ denims crafted out of the Cone®3D R&D incubator. Cone Denim operates as part of Elevate Textiles, Inc. with manufacturing capabilities in Mexico and China and a global network of sales, product and merchandising professionals based out of Greensboro, N.C., New York, San Francisco, and Hong Kong. To learn more, visit us at conedenim.com, LinkedIn, Instagram, and Facebook or elevatetextiles.com.