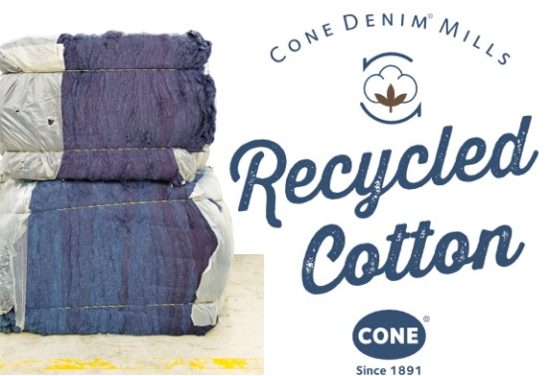 Greensboro, NC – Cone Denim®, a global leader in denim authenticity and sustainable innovation, is excited to announce its newest collection featuring denim fabrics made from recycled cotton.  The Cone Denim Recycled Cotton collection promotes a closed-loop system that uses pre-consumer and post-consumer waste in the production of new, more socially responsible denims – creating authentic fabrics you know, with more to love.
Cone Denim is working with likeminded partners in Mexico including Apparel International and Flynn Enterprises to collect and incorporate pre-consumer scraps from the cutting table back into Cone's supply chain and used in the manufacturing of its authentic denim.  Using a closed-loop process Cone is able to bring scraps from original Cone Denim fabrics together with other sustainable components using mindful manufacturing processes to create environmentally conscious Cone fabrics.
"Cone is continually innovating ways to create more sustainable, responsibly produced denims," says Cone Denim President Steve Maggard.  "The partnership with Apparel International and Flynn provides an opportunity for us to reclaim scraps of Cone denim to use in creating an even more responsible authentic fabric.
Maggard continued, "It is no secret that making denim requires a significant amount of resources.  The use of pre-consumer recycled cotton from Cone's own internal operations and our cut-and-sew partners helps to conserve water by offsetting water used to grow cotton.  Additionally, Cone's use of pre and post-consumer recycled cotton has redirected approximately 500,000 pounds of cotton waste from landfills over the last year."
"We are excited to be a partner with Cone in creating more sustainable denims," says Oscar González Franch, President Apparel International.  "We believe protecting the environment is an obligation and we are pleased to participate in such an urgent and worthy cause as we stand alongside Cone and the industry in their efforts to create more socially responsible denim and find ways to innovate without compromising the consumer's love for authenticity.  Reclaiming waste benefits everyone across the supply chain and creates a denim garment that consumers can be proud to wear.  We look forward to more expanded projects together."
Cone Denim operates as part of Elevate Textiles which announced earlier this year its 2025 Sustainability Commitments focused on responsibly sourced fibers, reduced water consumption and reduced greenhouse gases.  As part of Elevate's commitments and that of its portfolio brands, including Cone Denim, efforts are underway across Elevate's brands to use at least 80% sustainably sourced cotton and 50% recycled polyester content; reduce the company's water intensity by 25% per unit of production, and set a specific greenhouse gas target of achieving a 2.5% per year reduction trajectory as part of its participation with the Science Based Target (SBT) Program. These goals solidify Elevate's commitment to responsible manufacturing and continue in the tradition of its brands as innovation leaders.
Visit Cone Denim at the Kingpins New York Show November 19 – 20 to see the Cone Denim Recycled Cotton denim collection.
About Cone Denim
A leading denim innovator for more than 128 years, Cone Denim delivers unparalleled expertise and advanced denim capabilities that service and inspire the global market. Cone promotes sustainable practices through it's SustainblueTM denim fabrics representing the highest standards in responsible manufacturing and Cone's commitment to making a positive impact in its communities. From performance denims and superior S GENE® technology to vintage re-creations of Cone Deeptone DenimTM reaching back to the early 1900s, Cone offers unique collections of Performance, Stretch, Selvage, and Distilled IndigoTM  denims crafted out of the Cone®3D R&D incubator.  Cone Denim operates as part of Elevate Textiles, Inc. with manufacturing capabilities in Mexico and China and a global network of sales, product and merchandising professionals based out of Greensboro, NC, New York, San Francisco and Hong Kong.  To learn more visit us at conedenim.com, LinkedIn, Instagram, and Facebook or elevatetextiles.com.
About Elevate Textiles
Elevate Textiles, a portfolio company of Platinum Equity, offers distinguished global textile brands including American & Efird, Burlington, Cone Denim, Gütermann and Safety Components. With a global array of premium fabric and thread solutions focused on innovation, sustainability and quality craftsmanship, Elevate and its portfolio brands provide products that surround us every day and in all facets of life.  We offer advanced, high quality products and mission critical textile solutions across vast industries including fashion and functional apparel, footwear, military, fire, medical, athletic, automotive, aerospace, outdoor, and other specialty sectors. Elevate is committed to delivering solutions that protect and enhance our lives through its global manufacturing platform that includes 38 facilities and over 15,000 employees. To learn more about Elevate Textiles and our brands, visit elevatetextiles.com.
We are shifting the narrative to carve out a space to explore, have fun, and create a positive space.