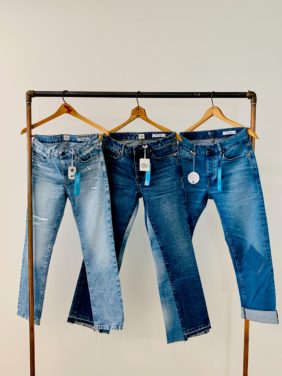 Greensboro, NC – Cone Denim®, a global leader in denim authenticity and sustainable innovation, is excited to announce it is expanding its denim capabilities with the installation of Jeanologia technology, providing more sustainable and eco-responsible denim manufacturing. Denim fabrics produced with these newest technologies are expected to be available in the Cone Denim Spring 2020 Collection.
"It is exciting to expand our partnership with Jeanologia, a global leader in sustainable finishing solutions," says Steve Maggard, President Cone Denim. "Jeanologia's capabilities are opening new possibilities to bring together eco-friendly manufacturing with creative fabric innovation. We remain committed to working with likeminded partners to identify and lead initiatives in responsible manufacturing and sustainable innovations in line with our 2025 Sustainability Goals announced earlier this year."
Jeanologia technologies provide sustainable and efficient fabric and garment finishing that significantly reduces the amounts of water, energy and chemicals needed, while minimizing other hazards and pollutants involved in traditional denim finishing. Cone Denim is currently installing Jeanologia G2 Dynamic Finishing Ranges and the Flexi Lab Laser capabilities in its Mexico and China platforms, as well as the Bluescan Device for Laser Blanket Analysis.
Jeanologia CEO Enrique Sillas commented, "At Jeanologia we believe in business as a force for good. Our technologies create an ethical, sustainable and eco-efficient blue jeans industry and we found in Cone Denim the perfect match on this transformation journey. Together we form a great team. Cone Denim inspires Jeanologia to improve. We´ve developed the G2 Dynamic technology that reduces water and toxicity from the fabric production process. Cone is implementing it by using it in mass production, making it real and creating a better world. We are proud to be a Cone Denim technological partner."
Jeanologia's G2 Dynamic is the first ozone treatment for continuous fabric. G2 equipment mimics the existing denim finishing appearance, but using significantly less water and no harmful chemicals to create fabrics that are more laser friendly. The Flexi Lab laser machine provides a way to develop and test fabrics more quickly and efficiently, without the time needed for outside analysis. The Bluescan technology evaluates denim blankets automatically providing repeatable, standardized results without the need or bias of human interpretation.
Maggard continued, "As denim innovators, these new technologies and processes provide our design and technical teams access to evolving resources and textile solutions to bring our customers market-leading sustainable denim and services."
About Cone Denim
A leading denim innovator for more than 128 years, Cone Denim delivers unparalleled expertise and advanced denim capabilities that service and inspire the global market. Cone promotes sustainable practices through it's SustainblueTM denim fabrics representing the highest standards in responsible manufacturing and Cone's commitment to making a positive impact in its communities. From performance denims and superior S GENE® technology to vintage re-creations of Cone Deeptone DenimTM reaching back to the early 1900s, Cone offers unique collections of Performance, Stretch, Selvage, and Distilled IndigoTM denims crafted out of the Cone®3D R&D incubator. Cone Denim operates as part of Elevate Textiles, Inc. with manufacturing capabilities in Mexico and China and a global network of sales, product and merchandising professionals based out of Greensboro, NC, New York, San Francisco and Hong Kong. To learn more visit us at conedenim.com, LinkedIn, Instagram, and Facebook or elevatetextiles.com.
About Jeanologia
An innovative and multicultural company with 25 years of experience focused on the development of sustainable and efficient technologies for fabric and garment finishing. Since its inception their mission has been to create an ethical, sustainable and eco-efficient industry through their disruptive technology and know-how. Today Jeanologia leads the transformation of the textile industry with their G2 Dynamic, laser, G2 ozone, eFlow, and the first water recycling system H2 Zero which are capable of enhancing productivity, reducing water and energy consumption and eliminating damaging emissions and waste, guaranteeing ZERO contamination. The Spain-based company has customers including some of the industry's largest brands in over 65 countries across five continents. For more information, visit www.jeanologia.com. Facebook, Instagram, LinkedIn.
We are shifting the narrative to carve out a space to explore, have fun, and create a positive space.