The Cone® Community Collection of fabrics is designed to support and raise awareness for worthy causes that align with the values and soul of Cone Denim.
As part of our aspiration and work to make an impact in each UN Sustainable Development Goal (SDG), we are pleased to partner with Water.org and directly contribute to work that is making an impact to SDG Goal 6 – Clean Water and Sanitation. The special teal blue color yarn provided by our sister company American & Efird (A&E) in the selvage i.d. is symbolic for global water awareness.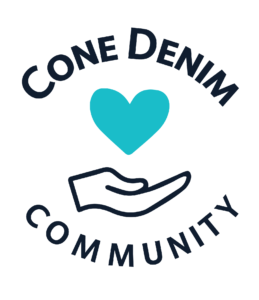 Distilled indigo; water, chemical, and energy saving indigo dye
Teal blue selvage
Laser friendly fabrics
Designed for people and the planet
Timeless authentic character
Fabrics that provide an additional voice
Contributing to Sustainable Development Goal #6 – Clean Water and Sanitation
While substantial progress has been made in increasing access to clean drinking water and sanitation, billions of people – mostly in rural areas – still lack these basic services. Worldwide, one in three people do not have access to safe drinking water and two out of five people do not have a basic hand-washing facility with soap and water.