In the US, denim manufacturers are going back to their roots to give a fresh hue to the jeans industry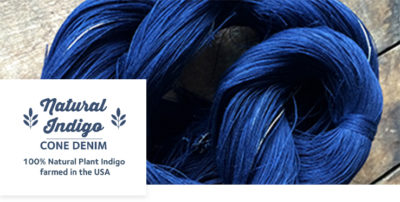 Glossy plants with distinctive purple-green stalks and knots of compact magenta flowers crowd together in a sprawling field outside Nashville. Mosquitos dart around in the Tennessee dawn as a huge machine harvests a crop of natural indigo. It's a gathering not seen in this area for over a century, a sign of how America, the natural home of denim, is mapping out a sustainable mass-market future using small-scale, artisanal ideas.
While the indigo plant was once prized by the pharaohs, Japanese emperors and administrators of the British Raj, by the early 20th century, the natural dye it produces was supplanted by a synthetic substitute. Synthetic indigo is now used to dye around a billion pairs of jeans every year. But the presence of these plants in Tennessee is not a mere function of nostalgia: it's inspired by contemporary concerns, says the woman responsible. New York native and Cornell graduate Sarah Bellos studied resource management before becoming fascinated by the idea of using sustainable plant dyes in the fashion industry. She launched Stony Creek Colors in 2012 with the aim of re-establishing large-scale use of natural indigo in the US.
The synthetic indigo used to dye nearly all of today's denim is derived from petroleum, involving unpleasant precursors including cyanide and formaldehyde. Bellos aims to move things forward by turning back the clock: 'Creating valuable and useful chemicals from plants as opposed to petroleum is way more sustainable. We're helping farmers and the soil.'
This huge field is farmed by Anson Woodall, one of several farmers who supply Stony Creek. He explains that 'indigo is our new cash crop, whereas in 2016 it was tobacco.' Although medium-scale production of natural indigo has continued in the Far East, these fields in Tennessee – planted with Japanese indigo (persicaria tinctoria), plus other varieties including indigofera tinctoria, for research purposes – are part of a push to turn plant-based indigo from a craft hobby to an industrial concern in the US. 'The real challenge is to scale up,' says Bellos, 'to show that natural indigo can be produced consistently, and at the volume to be used in the denim industry. But also with traceability, so you can visit the farm where it's grown.'
Indigo is extracted from its plant leaves using warm water, rather like tea, with the resulting liquid reduced in huge vats. The factory is infused with a warm, leafy smell, along with a smoky hint of tobacco: a benign start for an evocative substance that adds a unique complexity to the denim it ends up dyeing.
Given that Levi Strauss was the company that first created blue jeans as we know them, it's appropriate that one of the first pair of jeans dyed with Stony Creek natural indigo is a painstaking replica of an 1880 pair in its archives – the XX model that predates the 501. The cut and construction of the replica mimics precisely that of the original pair, nicknamed 'Stumpy'. The most challenging aspect of the revival was replicating the original yarn. Paul O'Neill, senior designer at Levi's Vintage Clothing, worked in collaboration with leading yarn expert Allen Little, director of product development at innovative fabric mill Cone Denim. The natural indigo was a vital finishing touch. 'The colours and the shading are quite unique,' says O'Neill.
With their complex, almost purple hue, the Levi's 1880 jeans show one interpretation of natural indigo, but the possible variations are infinite. Stony Creek research chemist Summer Arrowood sometimes turns up for work in a distinctly modern pair of Gustin jeans (a San Francisco-based brand founded eight years ago), with a heavier, more turquoise denim. Many other brands will launch jeans dyed with Stony Creek's indigo over the next year, while mills in Asia and Europe have also committed to using the distinctive dye. It's impossible to generalise about the final look of all the products that use Stony Creek indigo, but overall this is denim that will 'crock' more slowly, demanding hard work before they wear in – which is probably the one retro aspect of the whole process.
We made a promise to the denim industry to be innovative. Not to walk away, not to outsource.
Sarah Bellos' vision of denim as a product that epitomises a modern America, rather than the mythical country of the past, is gathering momentum. Many new US-based boutique labels, from Tellason and Imogene + Willie to 3sixteen and one-man operation Roy Slaper, have built up a committed following over the last decade, while industry giant Levi Strauss seems to have executed a significant turnaround. Still, there is pressure from cheaper imports, which has resulted in Cone closing its US denim mill in North Carolina and moving production to Mexico. The way forward, suggests denim industry veteran Maurizio Donadi, is to think small, even if production is large-scale.
Donadi is the newly-appointed creative director- at-large at AG, the LA-based label founded by denim pioneers Adriano Goldschmied and Yul Ku in 2000. Donadi loves the iconic five-pocket blue jean, but points out how one can become 'a prisoner of that story'. AG has never been a slave to heritage, but Donadi sees the brand embodying denim in the widest possible sense: 'There's the world of the five-pocket blue jean and there's another world called denim, a much bigger world. What intrigues me is how many blues one can create. That's part of us, of nature, the colour of the sky, of reflections on water. What we're working on is not a denim project. It's a blue project!'
Donadi established his reputation with Diesel, Levi Strauss and Georgio Armani, before joining Ku's label (Goldschmied left in 2004 to pursue other ventures). He sees the future of AG in global terms, incorporating European or even Japanese visions of denim. But, as with Stony Creek's colours, he thinks of AG's denim as rooted deep in America. It's 'cooked up' close to home, he explains. In fact, it's cooked up at Koos Manufacturing, a huge cutting-edge operation on the outskirts of LA.
The company was founded by Ku in 1985 and he's been producing jeans for a variety of brands here ever since. As big as this modern, airy factory is, it's intimate, with fabrics cut in small quantities to ensure precision; likewise, it can work up experimental washes, then replicate them on a large scale. It's this intimate control that adds the magic, says Donadi: 'We made a promise to this area, to be innovative – and also to really be present. Not to walk away, not to outsource.'
In a similar way that Bellos is upscaling a craft industry to volume production, Donadi sees himself cooking up products for AG on a human scale. His dream is 'to be an artisan, to have the sensibility of a small company.' For both companies, the ultimate aim can be described as sustainability; for Bellos, it's the fact that the dye used is unadulterated, and can be traced back to a field in Tennessee; for Donadi, it's the notion of a simple T-shirt that isn't disposable and can last three years or more. Yet in both cases, it's the volume aspect, that this quality is available to everyone, that's crucial to the magic. As Donadi puts it, the aim is daunting, but profound: 'We have to be small and big at the same time.'
stonycreekcolors.com
agjeans.com
Source: Wallpaper, October 2018.  Written by Paul Trynka.