Nudie Goes Au Naturel with Natural Indigo-Dyed Organic Cotton Cone Denim Selvage
Dyed with natural plant-based indigo and woven at Cone Denim's original White Oak Mill in Greensboro, North Carolina.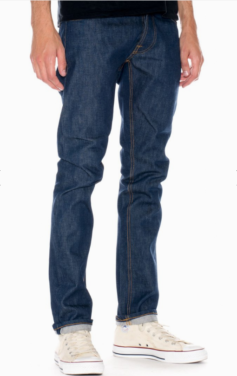 The Swedish dry denim denizens at Nudie Jeans have been pioneers in the fashion industry for years now serving up the naked truth about denim. Since their early years they've been a bit a rebel, setting themselves apart from other jeanswear brands. Early devotees to breaking in your raw, unwashed denim and helping to resurrect selvage denim's popularity and educate the mainstream, they have since continued to push the boundaries more and more with no sign of stopping in sight.
The socially responsible, highly transparent jeans makers set a standard in 2012 when they announced their entire line of denim jeans and jackets would be produced from 100% organic cotton. Now they have taken their au naturel mindset another step further with the debut of their "Dude Dan" jean made with natural indigo-dyed organic cotton selvage denim.
The special 15.25 oz selvage denim that goes into a pair of these dudes was woven from organic Texas-grown cotton, dyed with natural plant-based indigo sourced from Stony Creek Colors' network of southern US farmers, and woven on antique selvage shuttle looms dating back to the 1940s at our original White Oak Mill in Greensboro, North Carolina.