New Cone Denim Zero Liquid Discharge Plant
An important part of Cone Denim's commitment to reducing water usage is a new zero-liquid-discharge effluent treatment plant at its production facility in Parras, northern Mexico.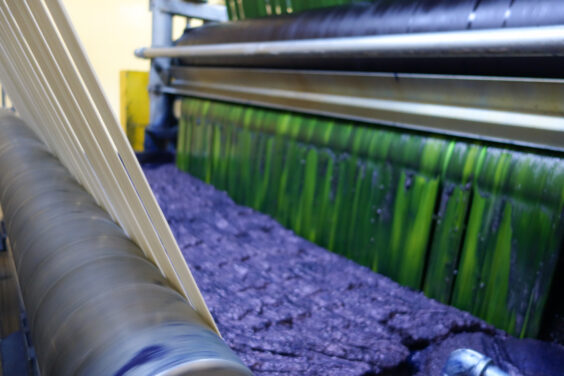 As part of the collective effort to improve this further, Cone Denim is installing a new zero-liquid-discharge effluent treatment plant at its factory in Parras de la Fuente, in the state of Coahuila in northern Mexico. According to Cone Denim president, Steve Maggard, investments of this kind are a clear demonstration of the denim mill's commitment to sustainability. "We're not just dipping our toe in," he says.
Like all the companies that form part of Elevate Textiles, fabric manufacturer Cone Denim has an important contribution to make towards reducing the group's greenhouse gas emissions and water usage by 2025. elevate's stated aim is to reduce the water intensity of its manufacturing operations by 25% per unit of production by 2025, compared to a 2016 baseline. it has said it will publish annual figures on the way to meeting the target. The group published its first sustainability report in late 2020 and showed that between 2016 and 2019, its water usage reduced by 7.5%.
Progress, despite covid-19
Steve maggard joined Cone in 1994 and went to Parras as a management trainee in the early part of his career, arriving soon after the 1995 production launch there and staying for about seven years. The town, its people and the factory are all close to his heart. Plans were in place to invite friends and customers to Parras for a twenty-fifth anniversary celebration in September 2020, but covid-19 put a stop to this, as it did to so many gatherings last year. The pandemic caused some hold-up in the installation of the new effluent treatment plant too because engineers, technicians and equipment suffered delays, but the project has made steady progress in spite of this. Cone Denim Parras is a vertically integrated operation that has the capacity to process raw cotton, spin yarn and weave and dye between 30 million and 32 million yards (27.5 million to 30 million metres) of denim fabric per year. Around 900 people work there in four shifts and the whole process runs 24 hours per day, seven days per week.
Water supply
North Carolina-based Cone first set up its operation in Parras with a local joint-venture partner, Cipsa, but it bought this partner out 12 years ago and now has full ownership. its biggest reason for being there, Steve Maggard explains, is that Parras has a long history, more than 100 years, of textile production. The town is relatively small, with a population of around 45,000, meaning the competition for workers is less intense than in many other locations. "We are the biggest employer in town," Mr Maggard says. He also points out that the water supply is good.
Water supply is the subject of frequent debate among politicians in the state congress for Coahuila, but Parras de la Fuente is something of an oasis in the desert, the Cone Denim president continues. There are several wells on the factory site and the company has all the necessary licenses and permits in place to use the water. But it still wants to make its water-use more efficient, here and across the whole of its manufacturing network, and the zero-liquid discharge idea is an important part of the strategy. "We know our customers are looking for the opportunity to tell stories of good sustainable practice to consumers," Mr Maggard says. "We want to provide them with the most sustainable option we can because we know it's the right thing to do, ethically, and also because it will help our customers see us as the supplier of choice."
Another step
Wastewater treatment has always been an important part of the operation in Parras. After an investment of millions of dollars, an integrated wastewater treatment plant that met all US as well as mexican regulations was part of the operation from the very beginning, with chemical and biological treatment taking place on site. For 25 years, Cone technicians treated the water that the factory used and discharged it into a nearby creek and, onwards, back into the environment. The main difference now, when the zero-liquid-discharge project is complete, will be that all of the water will go through ultra-filtration and reverse osmosis, leading to 93% of the volume coming back into the operation to be used again.
The other 7% will be contained in solids that will dry out at the site with the water evaporating into the air and returning to the water-cycle in that way. The dried sludge will then go for disposal, but no water will leave the site, Steve Maggard points out. To compensate for that 7%, the Cone Denim Parras operation will continue to draw some of the water it needs from the wells on site. Allowing for evaporation, it will take between 10% and 15% of its water from that source; the rest will be water it has recycled. Construction of the new treatment plant is at an advanced stage as this issue of Inside Denim goes to press and it will be in operation by the early part of the third quarter of 2021.
This new initiative is a source of pride for Mr Maggard and his colleagues, but he insists that sustainability and, specifically, water-saving ideas are not new for the Parras plant. "We already have condensation recovery from the steam lines," he says, "and the process water is already being reused multiple times before it reaches the wastewater treatment plant. What we are doing now is just another step on the journey."
Source: Inside Denim: Factory Talk. Issue 3/2021