White Oak Mills Fabrics Used in Lee x Pendleton Collection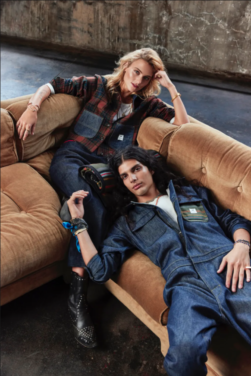 A new capsule collection by two heritage brands sums up the American outdoor-meets-workwear aesthetic. With nearly 300 years of textile and garment-making experience between them, Kontoor Brands-owned Lee and Pendleton Woolen Mills released Tuesday a men's and women's capsule collection using White Oak Mills fabric, that interprets their histories in contemporary style.
The workwear-inspired collection includes original Lee styles like the Lee 101 Jean, Union-Alls and Storm Rider jacket, as well as men's and women's shirts. Each garment has been "remixed" with exclusively designed Pendleton patterns. Each legacy pattern from the family-owned lifestyle brand known for wool blankets, apparel, and accessories has been reimagined in new colorways with fabric produced in the U.S.
The woolen fabrics appear on collars, pockets and piping, and is used as shirting material. A limited-edition wool blanket is also part of the collection.
"Working with Lee was a perfect pairing for Pendleton," said Peter Bishop, Pendleton executive vice president of merchandise and design. "Their authentic American heritage brand echoes Pendleton's dedication to quality, design and textile innovation."
Adding to the collection's historic roots, the jeans feature some of the last remaining American selvedge denim from Cone Denim's White Oak Mill, which closed in 2017. Woven on vintage Draper shuttle looms that only produced 100 yards a day. The jeans are crafted and sewn in Greensboro, N.C., Lee's hometown and where White Oak Mill once stood.
Lee and Pendleton are both well-acquainted with co-branded collaborations. The woolen mill has applied its hallmark prints to a broad scope of products spanning Ariat boots, Vans sneakers and Kith loungewear, to Hunter ceiling fans and Sunbrella outdoor home accessories. Meanwhile, Lee has ramped up its collaborative efforts to appeal to a wider base of consumers. This year, Lee bowed collaborations with H&M, The Hundreds and Alife.
Pendleton's use of color and pattern, however, has been a long-standing source of inspiration for the denim label, according to Betty Madden, Lee vice president of global design.
"Working together is a dream come true," she said. "We've taken a fresh design approach and incorporated Cone Mills' selvedge denim to make this collection heirloom quality with stunning craftsmanship. I'm thrilled with this collaboration."
The collection, which retails for $175-$400, is available now on Lee's and Pendleton's websites. It will launch later this month in select Pendleton retailers and independent boutiques.
Source: Sourcing Journal by Angela Velasquez. November 3, 2021. Images Courtesy