Kate Hudson On Her Recycled Fashion Line: "I am Not An Activist In Any Way"
Happy x Nature's use of Repreve and relationship with Cone Denim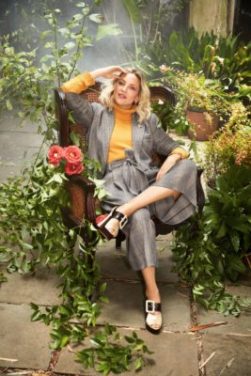 After yet another brand asked Kate Hudson to promote its products, the actor had an epiphany. "I could either do endorsements or roll up my sleeves and create products that matter to me," she tells Vogue. She chose the latter, and in 2013, Fabletics, Hudson's line of workout wear, was born. Five years down the line, her first fashion offering, Happy x Nature, is hitting the rails in Selfridges. It is based on the endlessly positive entrepreneur's commitment to bettering ourselves, but this time with a pledge to protect the environment, too.
"I've always wanted to start a ready-to-wear brand," Hudson admits. "But in this climate, there's a question mark about creating something new. I knew it had to be as conscious as possible." Fifty per cent of the fabric used in Happy x Nature's 35-piece debut collection is recycled, and the designer has made a promise to increase this to 100 per cent once the April-born company hits its stride.
Repreve, a fibre formed out of recycled plastic bottles, is its primary fabric source, and a relationship with Cone Denim, a pioneer in creating responsible denim through its Sustainblue initiative, has proved fruitful.
Hudson is keen to highlight the skinny jeans – each pair is made from two used bottles – and no doubt consumers will respect this product's green tagline, as well as its biodegradable packaging.
Has Hudson always had the personal wardrobe of an eco warrior? "Oh god no," she deadpans. "I'm a human who's learning as I go." The mother-of-three, who rose to fame as the inimitable Penny Lane in 2000's Almost Famous, backtracks. "I'm not an activist in any way," she clarifies. "My life is so crazy, I don't know if I have the energy to be a true, fully devoted activist. That being said, I want to be responsible. I want to be someone who is a part of movements that matter."
Her face lights up as she circles back to fashion. "I still love clothes," Hudson purrs. "The clothes that are luxurious, beautiful and obviously not good for the environment. But, I can start the process of finding a responsible way of creating similar pieces. Step by step – that's the world that I'm happiest in." Highlights in her launch edit are the pared-back pieces – beige suiting, checked coats and simple cotton dresses – rather than the ones that lean heavily on print.
As so many brands jump on the sustainability bandwagon in order to reach a "woke" audience, Hudson's caveats are made in earnest. She doesn't want to "preach to people". She "celebrates the small steps" they are taking to "make a difference". Are the clothes covetable enough for consumers to join her on the journey? Prices on the eco-friendly fabric tags are attractive (largely between £60 and £150), and Selfridges has certainly pledged its confidence by giving Happy x Nature a prominent position within its womenswear department. But, as Hudson herself acknowledges, she isn't promising a new proposition. "I don't ever approach any business as having to be different, I just really want it to come from an authentic place." Time will tell if her authenticity pays off.
Source: Vogue, August 2019. Written by Alice Newbold. Image Credit: Selfridges.