Ian Berry collaborates with Cone Denim to show connection between denim and music industry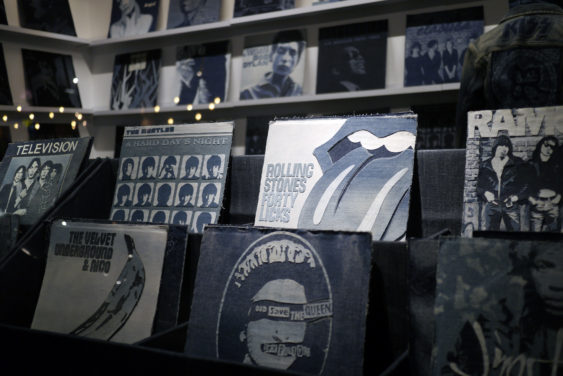 You can now see Ian Berry's exhibition 24 hours a day in London's Soho. On view at the Smallest Gallery in Soho, a curated space in the heart of London and made to be viewed from the window. You'll see albums, tees and jackets and even a denim vinyl player but as fun as the show may be, it's also a comment on the declining high street.
While the location in Soho is perfect as its famed for the music industry, as well as many famous record stores – many only in memory now. He also gives a nod to the connection to the music industry and denim.
From The Curators Phil Levine And Andreia Costa
The Smallest Gallery in Soho presents 'Soho Records' by Ian Berry who is known for his works made just out of denim. Berry has turned the gallery into a unique vintage record store in a response to the ever-changing high street. Look closely and you'll see at the heart of it is an acute observation of 'communities' and how they have changed. Where now we would meet for coffee, many in the past from the music community and like minded people would meet at a record store.
The space is filled with record covers, tee shirts, records and framed albums. Many have a connection to Soho and the story of denim. Music and denim have gone together through time. With acts and genres ranging from Elvis to heavy metal, Bob Dylan and punk, the pioneers of youth music have worn jeans. Many famous album covers of all time feature this artisan fabric.
Last year, 4.1 million vinyl records were sold in the UK, almost 1 million more than 2016, and a 12-fold increase on the levels seen in 2011. Fashion and music have always been inherently entwined together in society. Gone are the days of Virgin Megastore, HMV, Our Price, Woolworths and Tower Records where you would see such musical covers projected onto our streets. Yet it is an ode to the constant underground that music is always around and reinventing itself, as well as our lives.
To see more images
About The Smallest Gallery in Soho
The Smallest Gallery in Soho is a historic shop-front which faces onto Dean Street, in the heart of Soho. The aim of this intimate gallery is to display artwork that captures people's attention on their journey through Soho and encourage them to stop, think and be inspired. It hopes to transcend the rapid changes of building developments and the dispersion of the creative cohort — that was once so vibrant within the area — by exhibiting free and engaging art works to view from the street.
The space was established by The Garage Soho, an early stage investor company that champions brand building and creativity.
Manager:
Moira Rizopoulos (@moirarizo)
moira@thegaragesoho.london
Curators:
Philip Levine (@philiplevine)
gallery@thegaragesoho.london
Andreia Costa (@a_m_da_costa)
gallery@thegaragesoho.london
Lighting Design @Syntaxlighting
Venue @thegaragesoho
Supporters @cocolightingltd @conedenim @tonelloslr & ArchitectualFX