Gap CEO Art Peck Details Sustainability Journey in Denim and Beyond
Gap Inc. CEO Art Peck is on a mission to effect change—the sustainable kind.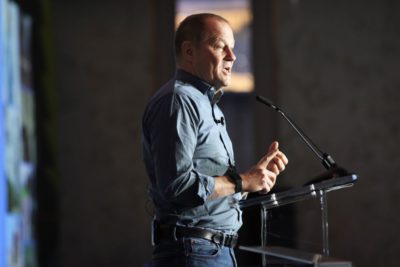 Describing cotton as a core textile for Gap—"jeans are the core of our company," he said, with 65 percent of the brand's products made with cotton–Peck knew that to build a corporate social responsibility program on good footing, he had to start with the hardest part of the process, "and that's jeans."
At the WWD Apparel + Retail CEO Summit Wednesday in New York City, Peck shared that Gap has been focused on undergoing a sustainability makeover in an industry that hasn't been known for environmental concerns. It's a move that has Peck and his team scrutinizing Gap's entire entire supply chain.
The cultivation of cotton, a water-intensive crop, requires considerable applications of herbicide and pesticide as well. And in India, where 100 million people live in cities without aquifers, residents are wholly dependent on surface water for their drinking and washing needs.
To address this reality, Gap is creating a closed-loop standalone water supply system as a co-investment project with strategic vendor Arvind in Ahmedabad, India. In Vietnam, where 6,000 laborers work in its factories, the clothing company and its vendors established a framework supporting community health through educating workers on vocational and life skills.
"If I don't orchestrate the ecosystem and how to go after it, I'd have no impact on climate," Peck said.
Although the Vietnam program was initially "guarded jealously," the curriculum and process for implementation is now open source, allowing other companies to copy Gap's approach or come up with their own version, as Abercrombie & Fitch Co. and PVH Corp. have done, Peck said.
All of this work, he added, is about "generating meaningful change in the world we do business in."
Gap is also partnering with Cone Mills on recycled cotton, said Peck, who was wearing jeans made of 50 percent recycled materials.
And while "denim heads" might want to complain about how using recycled fibers won't have the same hand feel or the same tensile fiber strength, a blind "taste test" indicated that half of the denim aficionados surveyed couldn't tell the difference.
While work on recycling post-consumer waste in cotton is still in the early stages, being able to use even a portion of this material as an alternative to cotton also would help buffer the volatility in pricing of the notoriously thirsty crop, Peck said.
Sustainability and climate change are personal for Peck, who lives in California near Gap's San Francisco headquarters and has endured 72 hours without power while "breathing smoke" from the fires ravaging the northern part of the Golden State.
Peck is all too aware of fashion's shortcomings on the environmental front. "We know what this industry is good at," he said, citing the 85 percent of apparel cast off in landfills and the chemical-intensive textile finishing process, "but being good to the planet and good to the environment and pulling our values to the forefront of our customer value proposition hasn't been a forte."
Textiles waste
Consumers who believe donating their good-condition garments is a smart and sustainable move might want to think again. Most clothing donations end up binned rather than being sold at secondhand outlets or helping to clothe those in need.
"There is almost no recycling, or upcycling, in this industry. It all goes to a landfill or incinerator," Peck said, noting that about 23 billion pounds of textiles are wasted every year. "The answer is to buy less [and] buy responsibly."
Gap is investigating ways it can help to address textile waste. Peck would like to see fewer "mistakes"—that is, merchandise that ends up on clearance racks buried in the bowels of a store—way their way onto the selling floor. The company has focused more on reducing product cycle times and on test-and-respond programs. Some products are crowdsourced to see where Gap can reduce waste, a move that also helps Gap trim leakage on the margin front.
The clothing empire has also reduced its assortment by bringing down seasonal buys, Peck explained. While some products still require long lead times, just 40 percent to 50 percent of the assortment is bought, leaving 50 percent for open-to-buy, which allows teams to evaluate which trends are resonating. Products that can be produced and shipped with shorter lead times allow Gap to fill in where needed according to demand.
To get a handle on what sells at below cost, and how many units, Gap analyzes all of these metrics to determine how to boost margins and minimize product waste, Peck said.
On another front, Peck described Athleta as a brand with little clearance activity, and Gap is applying learnings from that operation to other businesses, from Banana Republic and Intermix to Hill City and Janie and Jack.
Old Navy is on track to be spun off as a standalone firm.
Source: Sourcing Journal, October 2019. Written by Vicki M. Young. Image Credit: Jeff Fried/WWD/Shutterstock.