G-Star Turns 30: A Star is Born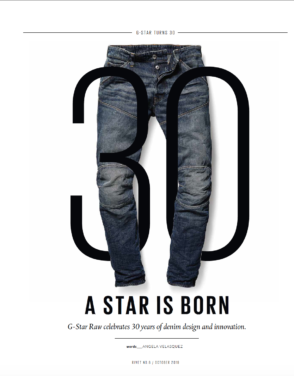 Founded by Jos van Tilburg in Amsterdam in 1989, G-Star Raw's philosophy has always been based on innovative concepts that fueled many firsts in the denim industry.
Today, G-Star's three core values—real, honest and authentic—not only capture the company's philosophy, but also signal the direction the denim industry is working toward through transparent and sustainable initiatives, which G-Star is often the first to try. From developing jeans made with the first Cradle to Cradle certified Gold denim, to launching Raw for the Oceans—a game-changing collection and campaign that helped shine a spotlight on the ocean plastic crisis—the brand isn't afraid of stepping out as a pioneer.
"Thirty years is a long time in fashion. The key to remaining relevant isn't only about the product itself," said Melissa Moylan, Fashion Snoops vice president of women's wear. "G-Star has taken on a broader responsibility by making sustainability one of its main design pillars. From using sustainable materials to supply chain optimization, they're making a positive impact that resonates with denim customers and the environment."
And part of G-Star's confidence to experiment comes from its long-established partnerships with suppliers like Cone, which was the exclusive supplier of denim fabric for the brand's first two seasons. Since then, Cone has worked with G-Star on the development of selvedge denims made using recycled content. G-Star was also an early adopter of Cone's natural indigo fabrics.
G-Star lives their passion for innovation and sustainability in everything they do. They collaborate with open minds and a challenge to do things differently, more responsibly and focused on making us all better in the future.
"It's always exciting to work with like-minded partners," said Kevin Reardon, Cone's vice president of sales.
The fact that G-Star was one of the first brands to make a commitment to sustainable solutions hasn't gone unnoticed either, said Amy Wang, Advance Denim general manager. The mill began working with G-Star in 2010 when the company started shifting its production to China. "They proved and continue to prove that sustainability is not just responsible but it is good business."
For many, G-Star is an ideal partner. Artistic Milliners, a Pakistan-based vertical denim manufacturer, learned this during the development of G-Star's "Most Sustainable Jeans Ever" collection in 2018, which incorporated the first Cradle to Cradle certified Gold denim fabric. The collection is made with 100 percent organic cotton and dyed with Artistic Milliner's Crystal Clear indigo dyeing process, which uses 70 percent fewer chemicals than conventional dyeing techniques. The garments feature buttons without toxic chemicals and are also 98 percent recyclable.
G-Star's clear vision for sustainability sets the path for others to follow.
"Innovation has always remained a core focus for G-Star, especially with its unique design, but their capability of marrying design with advanced technology and sustainability has been a huge inspiration to many denim brands in the industry," said Omer Ahmed, Artistic Milliners owner and managing director. "The brand has always been brave, open, transparent and humble to share their outstanding sustainability journey with the industry and the end consumer."
The industry took note when G-Star introduced EarthColors in 2017, a collection of denim dyed with Archroma's dyeing technology derived from plant-based waste, said Dion Cragg, Archroma brand solutions for Europe. "The interest from brands in their EarthColors collections has created an enormous renewed interest in this award-winning technology," he said. "And from this perspective, they have definitely influenced other brands, not just denim ones."
Working with G-Star has lasting positive effects on mills, too. Calik Denim, which has worked with G-Star since 2007, continues to be inspired by the brand's enthusiasm for newness. "G-Star is a brand that is open to all innovations and ideas; we can brainstorm with the team and develop products together and they always push us to be more sustainable and innovative," said Mehmet Serdar Özcan, Calik Denim's European sales director.
This type of entrepreneurial spirit is invaluable to the industry. "It contributes to our overall improvement, and the development of an innovative mindset," Özcan added.
While Saitex is now renowned for its sustainable processes, the Vietnam-based garment manufacturer learned a lot in its early days from working with G-Star, one of its first clients. And it still uses many processes that were a fundamental part of that initial experience with them. "G-Star had the patience and willingness to make mistakes in the research process in order to innovate," said Jerome Lallouette, Saitex chief operating officer.
Going forward, all eyes are on G-Star to see what the brand can achieve next. "Denim is an extremely competitive business, but I believe the brands that know how to offer innovation, cutting- edge style and quality will be the winners," Wang said. "G-Star is a perfect example of a brand focused on all three elements for success."
Though inspired by denim's heritage and workwear, Reardon says it isn't in G-Star's DNA to take a step back. "G-Star is a forward thinker," he said. "As an industry leader, they are redefining social responsibility and leading a new thought evolution within the apparel industry."
G-Star is a forward thinker. – Kevin Reardon, Vice President of sales for Cone Denim
The brand is also making sustainability relevant through partnerships with celebrities likeJaden Smith and Pharrell Williams, who became co-owner and head of imagination for the company in 2016.
"They have pushed the boundaries in terms of making sustainable ideas or concepts fashionable…," Cragg said. "They are keeping the younger generation interested in denim as a must-have fashion item."
And that's exactly what the denim industry needs. "For 30 years, G-Star has pushed the limits of denim design, changing an industry obsessed with the past by manifesting its own vision of the future," Özcan said. "With this vision, they create the classics of tomorrow inspired by the power of sustainability and innovation."
Source: Rivet, October 2019. Written by Angela Velasquez.