Cone Denim x Jeanologia: Partner on Water Conservation
Cone Denim has partnered with garment finishing technology company Jeanologia on a sustainable denim collection for Fall 2020.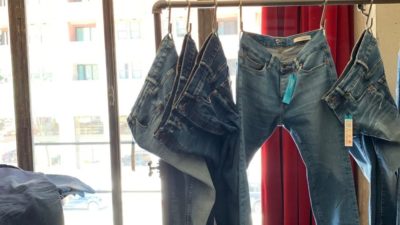 Cone Denim has announced plans to partner with garment finishing technology company Jeanologia on a sustainable denim collection for Fall 2020.
The collaboration brings together two leaders in denim that are aligned on environmental stewardship, Pierette Scavuzzo, director of product and design for Cone, told Rivet.
"We were honored to join forces with Jeanologia on this, as they are an remarkably visionary company," she said, adding that the collection will apply the company's water-conscious laser-washing techniques to a number of Cone's proprietary low-impact fabrics.
Scavuzzo hopes the partnership will be a "compelling and relevant" design resource for Cone's brand partners, and that it will serve as a "great source of inspiration" for designers looking for sustainable options.
"I selected specific fabrics that are key part of our Fall 2020 collection, but that also qualify very well for [Jeanologia's] laser washing technologies," Scavuzzo explained. "These washes promote minimal amount of water, energy and chemicals," she said, adding that each garment will be noted with a wash score.
Cone's consciously-milled denim provides an ideal base for Jeanologia's low-impact laser washing techniques, Scavuzzo said, describing the partnership as a "perfect marriage" of innovative technologies.
The iconic, 128-year-old denim mill will also debut two new product capsules for Fall 2020.
The Modern Retro collection will focus on utilizing a blend of post-consumer recycled cotton, wood pulp-derived Tencel fabric, and SGene with Repreve stretch technology, made from recycled polyester. The line will showcase a "broken-in hand feel" with "perfect marbling," Scavuzzo told Rivet.
The Favorite collection is "inspired by everyone's wish list," bringing together "all of the best elements you want in a jean." Comfort, softness, performance and a brilliant indigo color are hallmarks of the unisex capsule, Scavuzzo said. The line features a variety of washes and three stretch levels (high, medium and lightweight rigid).
The capsule promotes the "natural beauty" of denim, Scavuzzo added, insisting that the fabrics require minimal washing and processing to create.
"Brands want their fabric to have the look of authentic denim, but it has to be comfortable and lend itself perfectly to the fit that it will be designed into," Scavuzzo said of the forthcoming collections. That's where stretch performance comes in, she explained, but a "fine balance in fabric engineering" must be struck to camouflage the stretch elements. "It needs to feel soft, and lived in," she said.
Most importantly, Scavuzzo explained, a Cone fabric must favor sustainable ingredients. "Our fall 2020 collection has this overarching theme in all of the products that were designed," she said.
Source: Sourcing Journal, April 2019.  Written by Kate Nishimura.